QBG Services Accredited as a BICSc Assessment Center
23/07/2019
QBG Facilities Management Group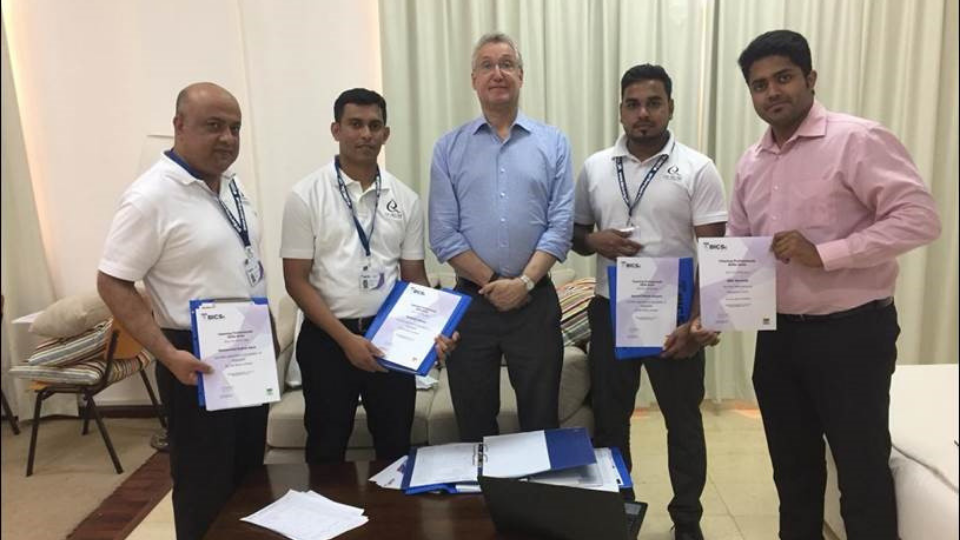 The Soft Services division of QBG Facilities Management has recently been re-certified as an Assessment Center by the British Institute of Cleaning Science (BICSc). BICSc is the largest independent, professional and educational body within the cleaning industry, with over 25,000 Individual and Corporate Members. It's aim is to raise the standards of education and build awareness of the cleaning industry through professional standards and accredited training. 
Three of our Supervisors, Syed Shabab Hussain Rizvi, Shahadat Hossain and Mohammed Rabiul Alam received intensive training from the renowned institute, and had to demonstrate both theoretical and practical competence of the BICSc processes and standards. This was followed by an assessment carried out by a BICSc International Assessor last Saturday, 28th April 2018 which was successfully accomplished by them. Our newly certified Assessors will now be able to train other cleaning staff as per the BICSc standards and will be assigned to assess the quality of our cleaning service provided to our clients at various sites. 
QBG aims at providing the highest standards of quality and continuous improvement by utilizing such training opportunities and certification process that is focused on operational excellence. We congratulate all the Accessors for this great accomplishment and appreciate all the team members who have supported in this entire process of accreditation for QBG.