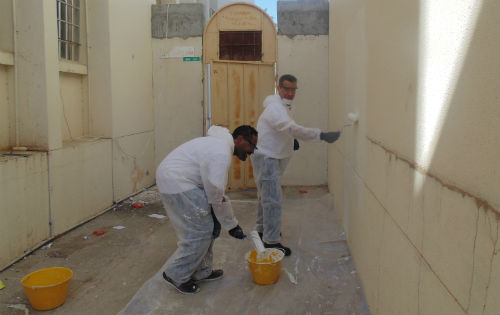 Qurum Business Group is committed to operating in a socially responsible manner. 
As such, we have always been an active member of the communities in which we operate, donating time or money to deserving causes in our neighbourhoods.
We deliver on this commitment through our Corporate Social Responsibility (CSR) strategy, entitled QBG ECHOES.
This important framework is based on five key value pillars. These are:
Education
Small to Medium Enterprise (SMEs) development
Environment conservation
Reaching out to those in need
Volunteerism
QBG ECHOES was launched to consolidate the group's social investment activities under one comprehensive umbrella and set a longer-term direction for CSR.
Regarded as the overarching theme for the Group's corporate citizenship approach, the new framework significantly broadens the range and diversity of QBG's sustainable development activities.
QBG has, from the onset, held the well-being of society as a priority, working in a responsible manner and supporting various causes and programs that benefit local communities. In line with its continuous growth, QBG has implemented a dedicated CSR strategy that integrates its business objectives with its social and environmental ambitions. We believe that the positive effects of ECHOES will be felt by the communities in which we operate, time and time again.
Five value pillars 

ECHOES is based on five key value pillars (focus areas) that aim to build an exemplary relationship between QBG and its local communities. Each pillar is deeply rooted in our company history and aligned with our current and future business priorities.
They all represent important CSR initiatives that QBG is committed to pursuing, and encourage employees to give back to the community:
Education: QBG will support educational institutions in the communities it operates in. This will be delivered though maintenance and enhancement of the facilities and partnering with leading educational institutions to support internship efforts. 
Developing SMEs: QBG aims to support young people who are interested in opening their own business in association with any QBG company. QBG aims to provide potential business owners with the necessary training,  financial investment and strategic guidance. 
Nurturing through environment conservation: QBG continuously identifies areas where it can protect the environment through conservation and restoration. This includes working with partners, suppliers and employees on planting, recycling, cleaning, as well as electricity, water and carbon efficiency initiatives. 
Nurturing through reaching out: Our CSR strategy strives to help meet the needs of the local communities and enhance the overall quality of living. This includes donations – in-kind or financial.
Nurturing volunteerism: QBG aims to strengthen our company's position as an employer of choice while cultivating good relationships with our communities. QBG partners with NGOs and relative authorities and charitable organizations or identify volunteering programs for employees.
Implementing the strategy 

ECHOES is implemented by a dedicated CSR Leadership Team. This team consists of 8 members comprising of a board member and senior executives from various departments and business units, and external advisors. The team acts as a resource to QBG's senior management in implementing and evaluating projects that fall under five value pillars.
QBG publishes an annual CSR report in Arabic and English, which details the Group's CSR  programs, social contributions, achievements and impact on natural resources and local communities. It measures and tracks the results on the return on investment.
This report is delivered in line with the Global Reporting Initiative (GRI), which is a leading organization in the sustainability field. GRI promotes the use of robust reporting as a way for organizations to become more sustainable and contribute to sustainable development.